מכשיר מעבדתי - מצנן זעיר
Huber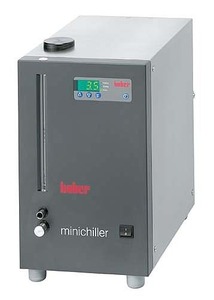 Huber NR Minichiller
מצנן זעיר
Small, robust and cost effective with its stainless steel casing The Minichiller® is the smallest Unichiller® in the World. Minichillers are available with air or water-cooled refrigeration systems, illuminated level indicator, overflow and drain on the front. The filling port is on the top of the unit.
MPC-Controller:
Modern and easy to use microprocessor controller with a large temperature display. Limited to essential functions only:
Large temperature display
LED indicators for pump, cooling and heating
Simple operation using only 3 keys
Technical Data
↓
Operating temperature range: -20…40 °C
Temperature adjustment: digital
Temperature indication: digital
Internal temperature sensor: Pt100
Resolution of display: 0.1 K
Temperature stability at -10°C: 0.2 K
Safety classification: Class I / NFL
Cooling power:
at 15°C: 0.3 kW
at 0°C: 0.2 kW
at -10°C: 0.14 kW
at -20°C: 0.07 kW
Refrigeration machine: air-cooled, natural refrigerant
Refrigerant: R290
Refrigerant quantity: 0.04 kg
Circulation pump: Pressure- and suction pump
max. delivery: 20 l/min
max. delivery pressure: 0.2 bar
max. delivery (suction): 17 l/min
max. delivery pressure (suction): 0,18 bar
Pump connection: M16x1 male
Cooling water consumption
min. filling capacity: 1.4 litres
Volume of expansion: 2.6 litres
Overall dimensions WxDxH: 225x360x380 mm
Net weight: 23 kg
Power supply requirement: 230V 1~ 50/60Hz
max. current: 2.8 A
Fuse (1 phase): 4 A
min. ambient temperature: 5 °C
max. ambient temperature: 40 °C
Supply req.: 230V 50Hz
Dimensions (WxDxH): 225 x 360 x 380m
לקבלת הצעת מחיר על מוצר מצנן זעיר

לקוח\ה יקר\ה שלום,
נציגינו עומדים לשירותך בכל עת כדי לענות לפנייתך.
לנוחיותך מספר שיטות התקשרות עמנו, על מנת, שנוכל לתת לך את השירות הטוב ביותר:
ליצור קשר באמצעות אי מייל sales@master-cold.co.il או באמצעות מילוי פרטים באתר.
אנא מלא את פרטיך, את נושא הפנייה ואת פרטי ההתקשרות המלאים ואנו נדאג לטפל בפנייתך בכל תשומת הלב ובהקדם האפשרי.
במידה ולא נענית תוך פרק זמן סביר, תוכל\י לברר את סטטוס בקשתך באמצעות קשר טלפוני 1-800-22-22-66

224

קולות, בממוצא

9.4

נקודות מ

10

נקודות.