מיכשור מעבדתי - Lauda RE104
Lauda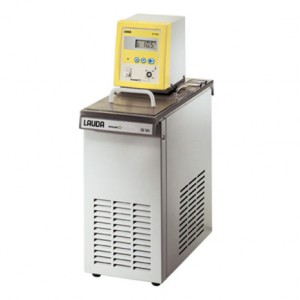 מכשיר Lauda RE104 יד שניה משופץ
Cooling thermostat 230V;50/60Hz
Cat. No. LCK 0861

Article description
↓
Thermostatic bath/circulator with latest microprocessor technology and integrated cooling system.
1-line LCD display for display of actual or set temperature.
User-friendly menu guidance with simplest 3-key operation.
Fully electronic continuous controller with PID action.
Low-level and adjustable over-temperature protection with acoustic alarm for use with flammable and non-flammable liquid.
LAUDA Vario pump with 5 selectable output steps.
Bath from stainless steel (insulated, with carrying handles and drain tap)
Automatic compressor on/off control.
Technical data (according to DIN 12876)
↓
Working temperature range -10 °C … 150 °C
Temperature control ± 0,02 °C
Heater power 1,5 kW
Cooling capacity at 20 °C 0,18 kW
Pressure pump max. pressure 0,4 bar max. flow 17 L/min
Bath volume max. 4,5 L
Size of bath (W x D x H) 130 x 105 x 160 mm
Overall dimensions (W x D x H) 180 x 320 x 524 mm
לקבלת הצעת מחיר על מוצר Lauda RE104

לקוח\ה יקר\ה שלום,
נציגינו עומדים לשירותך בכל עת כדי לענות לפנייתך.
לנוחיותך מספר שיטות התקשרות עמנו, על מנת, שנוכל לתת לך את השירות הטוב ביותר:
ליצור קשר באמצעות אי מייל sales@master-cold.co.il או באמצעות מילוי פרטים באתר.
אנא מלא את פרטיך, את נושא הפנייה ואת פרטי ההתקשרות המלאים ואנו נדאג לטפל בפנייתך בכל תשומת הלב ובהקדם האפשרי.
במידה ולא נענית תוך פרק זמן סביר, תוכל\י לברר את סטטוס בקשתך באמצעות קשר טלפוני 1-800-22-22-66

34

קולות, בממוצא

9.9

נקודות מ

10

נקודות.