Huber UC012
Huber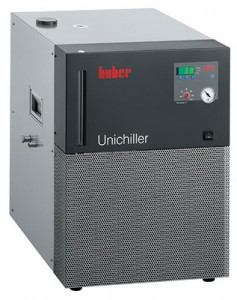 Chiller with air-cooled refrigerating unit and circulation pump. Evaporator (cooler), tank and housing of stainless steel. Pump made of industrial plastic material. Digital Temperature adjustment and digital temperature display. Adjustable bypass, level indicator with sight glass and analogue manometer.
Special Case: Acetone and Polyglycol: The plastic pump is not resistant against acetone and polyglycols (depending on the manufacturer). It is recommended that water is mixed with either glysantine or ethylene glycol for freeze protection. A resistant pump made of brass is available on request at an additional cost.
MPC-Controller:
Modern and easy to use microprocessor controller with a large temperature display.
Limited to essential functions only:
* Large temperature display
* LED indicators for pump, cooling and heating
* Simple operation using only 3 keys
Operating temperature range -10…40 °C
Temperature adjustment digital
Temperature indication digital
Internal temperature sensor Pt100
Resolution of display 0,1 K
Temperature stability at -10°C 0,2 K
Safety classification Class I / NFL
Cooling power
at 15°C 1,2 kW
at 0°C 1 kW
at -10°C 0,7 kW
Refrigeration machine air-cooled, CFC- and
HCFC-free
Refrigerant R507
Refrigerant quantity 0,44 kg
Circulation pump B
at 0,5 bar 21 l/min
at 1,0 bar 17 l/min
at 1,5 bar 11 l/min
at 2,0 bar 6 l/min
max. delivery 25 l/min
max. delivery pressure 2.5 bar
Pump connection G3/4 male
min. filling capacity 3,8 l
Volume of expansion 1,7 l
Overall dimensions WxDxH ** 420x480x579 mm
Net weight 52 kg
Power supply requirement 208V 2~ 60Hz
max. current 7 A
Fuse (1 phase) 2×10 A
min. ambient temperature 5 °C
max. ambient temperature 40 °C
לקבלת הצעת מחיר על מוצר Huber UC012

לקוח\ה יקר\ה שלום,
נציגינו עומדים לשירותך בכל עת כדי לענות לפנייתך.
לנוחיותך מספר שיטות התקשרות עמנו, על מנת, שנוכל לתת לך את השירות הטוב ביותר:
ליצור קשר באמצעות אי מייל sales@master-cold.co.il או באמצעות מילוי פרטים באתר.
אנא מלא את פרטיך, את נושא הפנייה ואת פרטי ההתקשרות המלאים ואנו נדאג לטפל בפנייתך בכל תשומת הלב ובהקדם האפשרי.
במידה ולא נענית תוך פרק זמן סביר, תוכל\י לברר את סטטוס בקשתך באמצעות קשר טלפוני 1-800-22-22-66

225

קולות, בממוצא

9.2

נקודות מ

10

נקודות.