Huber Unistat 141w
Huber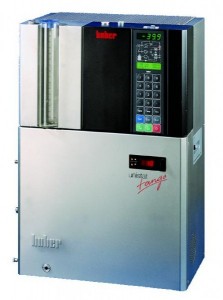 מכשיר Huber Unistat 141w יד שניה משופץ
Refrigerated Heating Circulator for open baths and closed systems. With water-cooled cooling machine. Closed circulation
pump made of stainless steel with cooled shaft seal with free shaft, without bearing in the liquid. Automatical switch-over
and capacity adaption for heating and cooling machine. Expansion tank (not thermoregulated) with sight glass for closed
systems, lockable for open baths. Moistened parts and housing of stainless steel. With adjustable overtemperature
protection according to DIN 12876.
Plug & Play Technology. Removable control panel for remote control from the workspace. Microprocessor controlled,
interactive by NAMUR interfaces (RS232, RS485, 4-20mA). Safety classification FL, extended security with float in the
expansion tank (option), self test automatically when starting. LED- and LCD-display, operation dialog controlled or direct
input. Digital set point- and actual value indication. Programmer and sequence controller. Connection for external sensor.
Operating temperature range -40…200 °C
Temperature stability at -10°C 0,02 K
Temperature adjustment digital
Temperature indication digital
Resolution of display 0,1 K
Internal temperature sensor Pt100
Sensor external connection Pt100
Control input 14-24V
Dry contact POKO 30V/0.1A
Safety classification FL
Heating power 4 kW
Cooling power with Thermooil
at 200°C 3,5 kW
at 100°C 3,5 kW
at 20°C 3,5 kW
Cooling power with Ethanol
at 0°C 3,5 kW
at -20°C 2,2 kW
at -40°C 0,2 kW
Refrigeration machine water-cooled, CFC- and HCFC-free
Refrigerant R507
Circulation pump:
max. delivery 90 l/min
max. delivery pressure 1.5 bar
Delivery at 0,5 bar 70 l/min
Delivery at 1,0 bar 55 l/min
Pump connection M30x1,5
Pump connection for hose NW20
max. permissible kin. viscosity 50 mm²/s
Cooling water connection 1/2" male
Cooling water connection for hose 3/8"
Cooling water consumption at water 15°C, flow 0°C 260 l/h
min. cooling water differential pressure 3 bar
max. cooling water pressure 6 bar
min. filling capacity 3,9 l
Filling capacity expansion tank 3,3 l
Overall dimensions WxDxH 460x550x1336 mm
Net weight 159 kg
Power supply (3 Phase) 400V 3~N 50Hz
max. current (3 Phase) 15,5 A
Fuse (3 phase) 3×16 A
min. ambient temperature 5 °C
max. ambient temperature 32 °C
לקבלת הצעת מחיר על מוצר Huber Unistat 141w

לקוח\ה יקר\ה שלום,
נציגינו עומדים לשירותך בכל עת כדי לענות לפנייתך.
לנוחיותך מספר שיטות התקשרות עמנו, על מנת, שנוכל לתת לך את השירות הטוב ביותר:
ליצור קשר באמצעות אי מייל sales@master-cold.co.il או באמצעות מילוי פרטים באתר.
אנא מלא את פרטיך, את נושא הפנייה ואת פרטי ההתקשרות המלאים ואנו נדאג לטפל בפנייתך בכל תשומת הלב ובהקדם האפשרי.
במידה ולא נענית תוך פרק זמן סביר, תוכל\י לברר את סטטוס בקשתך באמצעות קשר טלפוני 1-800-22-22-66

108

קולות, בממוצא

9.0

נקודות מ

10

נקודות.