Lauda RP845C
Lauda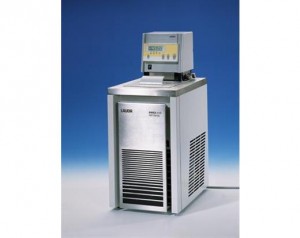 Article description:
Thermostatic bath/circulator with latest microprocessor technology and
integrated cooling system
Easily readable green LED display for temperature
User-friendly menu guidance. Simple operation by means of 3 keys. Additional
key Tmax for excess temperature
EasyUse system for simple operation of the whole unit
SelfCheck Assistent for system diagnosis
Fully electronic continuous controller with PID action for internal and
external control
PowerAdapt system for the use of the maximum possible amount of heat as long as
permitted by the power supply system
Low-level protection and adjustable over-temperature protection with acoustic
alarm. Float switch for identifying of low or high level
LAUDA Varioflex pump (pressure/suction) with 8 selectable levels
Option for upgrading with up to 2 interfaces (RS 232/485, analogue or contact
modules)
Pump connectors on the side and in the back, installed bypass
SmartCool system for energy-saving digital cooling management including
compressor on-off control
Bath vessel made of stainless steel (insulated, with handles and release valve)
Technical data (according to DIN 12876)
Working temperature range -45 °C … 200 °C
Temperature control ± 0,01 °C
Heater power 3,5 kW
Cooling capacity at 20 °C 0,80 kW
Pressure-/Suction pump
– Pump pressure/suction max. 0,7/0,4 bar
– Pump flow max. pressure/suction 25/23 L/min
Bath volume max. 8 L
Size of bath (W x D x H) 150 x 150 x 200 mm
Overall dimensions (W x D x H) 285 x 430 x 688 mm
Standard accessories 1 bath cover
2 nipples and
4 closing plugs for pump connectors
לקבלת הצעת מחיר על מוצר Lauda RP845C

לקוח\ה יקר\ה שלום,
נציגינו עומדים לשירותך בכל עת כדי לענות לפנייתך.
לנוחיותך מספר שיטות התקשרות עמנו, על מנת, שנוכל לתת לך את השירות הטוב ביותר:
ליצור קשר באמצעות אי מייל sales@master-cold.co.il או באמצעות מילוי פרטים באתר.
אנא מלא את פרטיך, את נושא הפנייה ואת פרטי ההתקשרות המלאים ואנו נדאג לטפל בפנייתך בכל תשומת הלב ובהקדם האפשרי.
במידה ולא נענית תוך פרק זמן סביר, תוכל\י לברר את סטטוס בקשתך באמצעות קשר טלפוני 1-800-22-22-66

249

קולות, בממוצא

9.3

נקודות מ

10

נקודות.