SUNDI-320
Lneya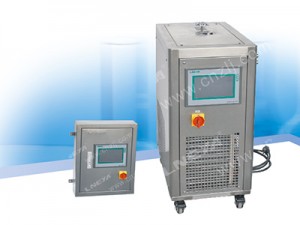 Applied To The Glass Reactor, Metal Reactor, Bioreactor For Cooling & Heating And Thermostatic Control, Particularly Suitable For Controlling The Required Heat Or Heat Release In The Process Of Reaction.
Technical Parameters:
Temperature Range ˚C

-30°C~180°C

Control Mode

Feedforward PID +Our special dynamic control calculation, PLC controller

Temp. control

Option: process temperature control or jacket oil temperature control

Temp. difference

Set or control the temperature difference between jacket oil and raw material process

Program Editor

20 programs, each program can edit 45 steps

Communication protocol

MODBUS RTU Protocol, RS 485 Interface

Temp. accuracy

±1°C

Heating power

2kW

Cooling capacity

180°C

1.5kW

50°C

1.5kW

0°C

1.5kW

-5°C

0.9kW

-20°C

0.6kW

Circulation pump

Max10L/min  0.8bar

Operation Panel

7-inch color touch screen controller, temperature curve record, data export to excel format

Safety protection

Self-diagnosis function; freezer overload protection; high pressure switch, overload relay, thermal protection device, liquid low level protection, high temperature protection and temperature fault protection

Closed circulation

system

The whole system is full closed circulation,there is no oil mist at high temperature and no water vapor at low temperature, pressure do not rise up when system is running.The system will supplement oil automatically at low temperature

Dimension

350*550*620mm

Weight

55kg

Case material

SUS 304

Optional

Optional Ethernet interface , configure PC operating software

Optional outside touch screen display controller (separated),the communication line distance is 10 meter
לקבלת הצעת מחיר על מוצר SUNDI-320

לקוח\ה יקר\ה שלום,
נציגינו עומדים לשירותך בכל עת כדי לענות לפנייתך.
לנוחיותך מספר שיטות התקשרות עמנו, על מנת, שנוכל לתת לך את השירות הטוב ביותר:
ליצור קשר באמצעות אי מייל sales@master-cold.co.il או באמצעות מילוי פרטים באתר.
אנא מלא את פרטיך, את נושא הפנייה ואת פרטי ההתקשרות המלאים ואנו נדאג לטפל בפנייתך בכל תשומת הלב ובהקדם האפשרי.
במידה ולא נענית תוך פרק זמן סביר, תוכל\י לברר את סטטוס בקשתך באמצעות קשר טלפוני 1-800-22-22-66

73

קולות, בממוצא

9.1

נקודות מ

10

נקודות.